Free Wi-Fi is available at 143 subway stations in Tokyo. Click below to see a map showing stations with free Wi-Fi.
You can also find stations with Free Wi-Fi by using the "Tokyo Subway Navigation for Tourists" app.

Step 1:
Select the "Metro_Free_Wi-Fi" or "Toei_Subway_Free_Wi-Fi" SSID on your laptop or smart device.
Step 2:
Launch your web browser.
Step 3:
Follow the instructions on the screen (you will be required to register your email address), and you will be connected to the internet. You will be able to use the internet for up to 3 hours each time you log in.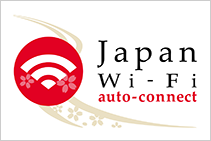 By using the "Japan Connected free Wi-Fi" app and registering your details, you do not need to log into each Wi-Fi access point. For more information regarding the app, please visit the NTTBP website.

Map Showing Stations with Free Wi-Fi
Note: The "Metro_Free_Wi-Fi" SSID can be used inside Tokyo Metro stations (Ginza, Marunouchi, Hibiya, Tozai, Chiyoda, Yurakucho, Hanzomon, Nanboku and Fukutoshin lines). The "Toei_Subway_Free_Wi-Fi" SSID can be used inside Toei Subway stations (Asakusa, Mita, Shinjuku and Oedo lines).