Getting off the Subway
Guide on how to find the right exit for your destination after getting off the train as well as how to transfer to other subway lines.
Finding the Fare Gate to Exit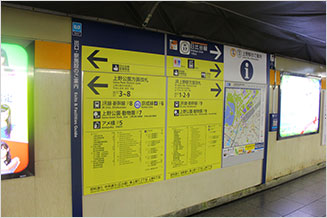 When you get off the train, look at the direction board to find the right gate and exit number in order to go to your destination.
Fare Adjustment
If you traveled further than the ticket you bought allows, you can pay the extra fare at a fare adjustment machine located near the fare gates. When you place your ticket into the machine, it will display the fare difference you owe. After inserting the difference, take your ticket and pass through the fare gate.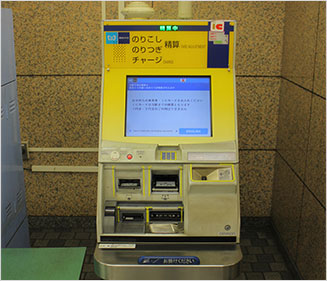 Left: Fare adjustment machine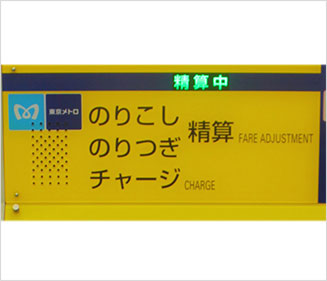 Right: Fare adjustment machine (sign)
Exiting the Fare Gate
When traveling with a regular ticket, the gate will not return your ticket. However, when using a 1-day Open Ticket, be sure to take it as you pass through the gate.
When transferring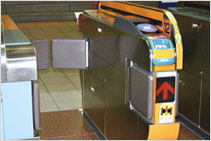 Orange transfer gate
In some subway stations, you must pass through the fare gates when transferring lines, even when they are both Tokyo Metro lines. In that case, when changing from one Tokyo Metro line to another, pass through the special orange transfer gates.
If you take longer than 60 minutes to change trains, you will need to purchase a new ticket. However, when using a PASMO card, be aware that the appropriate fare will be deducted automatically the next time you pass through an entrance gate.
Passengers are required to pass through the orange transfer gates (when exiting one line to transfer to another) at the following transfer stations:
Ueno, Mitsukoshimae, Ueno-hirokoji/Naka-okachimachi, Otemachi, Ikebukuro, Iidabashi, Hibiya/Yurakucho, Awajicho/Shin-ochanomizu, Shibuya, Shinjuku-sanchome, Ningyocho/Suitengumae, Tsukiji/ Shintomicho, Ginza/Ginza-itchome, Toranomon/Toranomon-hills
Finding Your Exit
After exiting the fare gate, you can find your exit number on the yellow exit signs and on the vicinity map. After finding your exit number, follow the appropriate exit signs. All signs are written in both Japanese and English.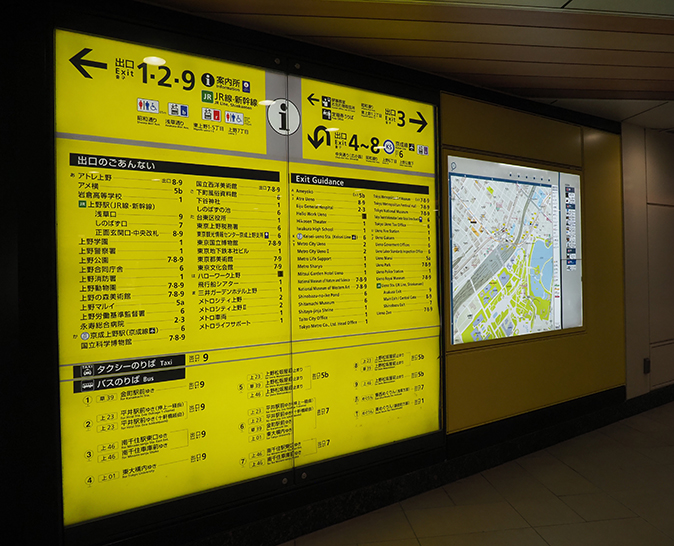 Yellow exit sign and vicinity map
About the Symbols at Stations
| | | |
| --- | --- | --- |
| Toilet (Restroom) | Universal Access Toilet | Tickets |
| Station Office | Lost & Found | Guide (Information) |
| Information | Elevator | Escalator |
| Stairs | Pass Office | Waiting Room (Bench) |
| Coin Locker | Ostomate | Emergency Train Stop Button |