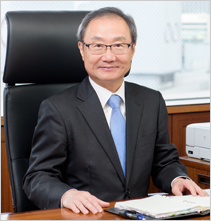 Tokyo Metro Co., Ltd. is responsible for a core part of the railway network in the Tokyo Metropolitan area, operating nine subway lines with 195.1 kilometers of track in and around central Tokyo. Seven of these lines offer reciprocal throughservices with lines operated by other rail transport companies.
As the operators of a public transportation network used by 7.42million passengers each day, we believe that our mission is above all else to provide safe transportation while expanding and improving our services from the customer's perspective. We are also actively involved in other businesses designed to serve our customers' daily needs.
In addition, we are taking bold steps to cut costs and enhance productivity in a bid to further streamline operations. In order to achieve our aim of being a company the public truly admires and trusts, we remain in close communication with local communities and are committed to preserving the global environment and achieving compliance with the law.
FY2018 is the final year of the three-year medium-term management plan entitled Tokyo Metro Plan 2018 and we are continuing to work actively to implement various policies based on the plan's two key concepts of "Providing Peace of Mind" and "Bold Steps towards Further Growth".
We believe that the key to providing customers with peace of mind is the combination of safety and quality service. We are aiming to become a company that provides a world-leading level of reassurance to passengers from around the world traveling in Tokyo, and we are working to accelerate our efforts to implement various improvements both to our infrastructure and to our systems and services.
We also place foremost priority on guaranteeing passenger safety during times of natural disaster. In addition to making further progress on initiatives to mitigate the effects of earthquakes, major floods and other disasters, we are also implementing policies designed to minimize disaster-related damage and share information in the aftermath of a disaster, achieving the rapid restoration of our services to keep the Metropolitan Region's infrastructure running. Furthermore, in order to improve safety on station platforms, we are working to install platform doors on all of our lines as soon as possible, while also seeking to continue improving our ability to watch over passengers by making sure our staff call out to passengers where necessary.
"Safety" is the core of railway operations and each individual employee and executive of Tokyo Metro Group is continually working to pursue safety in order to prevent accidents from occurring in advance, coming together as one to build a culture of safety within the Group.
With "Providing Peace of Mind" as the first and foremost premise, we are taking "Bold Steps Toward Further Growth", considering all initiatives that produce further value as a representative of "Growth". Our company shall further expand in tandem with our efforts to contribute to the continued development of Tokyo as one of the world's greatest cities as well as invigorating the areas around our stations. We maximize the managerial resources we have accumulated over the years.
By accurately understanding both our changing environment, including growing diversity in working practices, and the needs of our customers, our aim is to continue to provide a diverse range of services and new products that can create opportunities for people to enjoy traveling and using our network. In addition, we will work to maximize synergies between the railway business and other related businesses by further expanding and improving services such as retail outlets inside our stations and working to improve station infrastructure in a manner consistent with wider urban development goals.
At the same time, with pride and confidence as the first-ever subway company in East Asia, we are taking on the challenge of developing and introducing new technology, while also working to establish new businesses overseas, so that we can work to cement our reputation as one of the world's leading subway companies.
Furthermore, as an official partner of the Olympic and Paralympic Games Tokyo 2020 (Passenger Rail Transportation Services), we intend to live up to the expectations placed on us as a core part of the host city's infrastructure, providing smooth passenger rail transportation services and helping passengers from Japan and around the world use our subway systems in comfort and without difficulty, enhancing the visitor experience and contributing to the success of the Olympic Games under our slogan "Guiding you through Tokyo's brightest summer". We are also committed to the further development and improvement of the city after the Games are over.
Tokyo Metro will introduce a variety of proactive initiatives over the intermediate to long term, working to steadily increase our corporate value while remaining true to our Group ideal of "Keeping Tokyo on the Move". Through these efforts, we are aiming to become an excellent railway company and world-leading subway operator trusted, chosen, and supported by all stakeholders.
We look forward to your continued support.