This section introduces our transportation services, the operating conditions of each line and the ranking of stations by number of passengers, etc.
Creating Better Transportation Services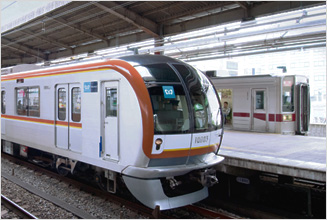 Through-services with lines operated by other railway companies (Tokyo Metro train [left] and Tobu Railway train [right] side-by-side at Wakoshi Station)
Seven of Tokyo Metro's nine lines offer through-services with lines operated by other railway companies.
The total length of the lines including the lines of the other companies is 320 kilometers, forming an enormous railway network for the Tokyo Metropolitan Area which provides seamless transportation services from Tokyo's suburbs to the city center. Furthermore, we are working hard to enhance our carrying capacity in order to alleviate congestion during rush hour, etc. We are also endeavoring to meet the diverse needs of our customers and to provide more comfortable transportation services. For example, we operate an express train service on the Fukutoshin Line.
Information on lines in operation, route length, number of stations and number of passengers.
Introducing station rankings by passenger numbers.