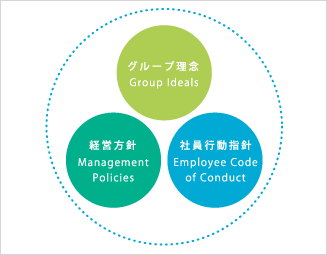 "Corporate Vision" expresses the focus of management consciousness even beyond the process of complete business privatization. It is comprised of "Group Ideals," "Management Policy" and "Employee Code of Conduct" elements.

"Group Ideals" express, from a long-term perspective, "the desired future form of the group."


"Management Policies" express what the Tokyo Metro Group should be doing, as a group, to provide passengers, investors, employees and society with what is necessary in order to make the group ideals become a reality.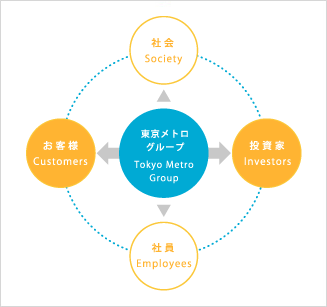 We provide our customers with:
A safety-first service that leverages our seamless urban network while working to improve passenger transfer convenience and make our transportation service more accurate and smooth.
A high-quality service that accurately meets the needs of people in Tokyo while working to maintain reasonable fares.
Multifunctional, barrier-free stations which are comfortable, appealing and open to all passengers.
We respond to investors' needs through:
Management that continually focuses on improving corporate value and maintaining sound finances through improved profitability and cost reductions across the group and also aims to strengthen our profit structure to allow the rapid listing of the company and the payment of stable dividends.
Working to maintain and improve our world-leading technology that forms the basis of our corporate growth.
Investing in IR activities and disclosure in order to build solid relationships of trust with investors.
We provide employees with:
Meaningful, stimulating work that makes full use of their talents.
A professional workplace at a company that can compete in the market.
Professional development that fosters flexible thinking, initiative taking and problem solving.
We show our commitment to society through:
Actively participating in initiatives to protect the global environment.
Actively participating in initiatives to develop Tokyo, ensure peaceful coexistence with local communities and contribute to international society as a good corporate citizen.
Implementing compliance-based management to ensure that we are highly regarded as an ethical corporate group.

The "Employees Code of Conduct" expresses conduct employees should engage in, based on both group ideals and management policies.
Never forget the importance of safety and work to win unshakeable public trust.
Maintain a strong sense of self-awareness and responsibility as someone who supports the infrastructure of Tokyo, a major international city.
Always stand in passengers' shoes, and make creative ideas a reality.
Remember the importance of free debate and teamwork and strive to create an open and dynamic corporate group.
Maintain a strong sense of independence as a private-sector organization and aim to increase group value by creating new sources of profit.